Ford's contribution to the self-driving future:
Ford is one of the oldest car producers still in the game. After Henry Ford revolutionized the car manufacturing process in 1908, not much has changed. Definitely when it comes to autonomous driving, Ford stayed out of the spotlight for many years.
But news has put the American industrialist back on track. In 2016 many promises were many and some veils were already lifted. Ford announces bought Pivotal Software, built Mcity testing complex, announced to treble its investment in autonomous technology, joined Safer Streets lawmaking pressure group and (last but not least) promised the first Ford self-driving car by 2021.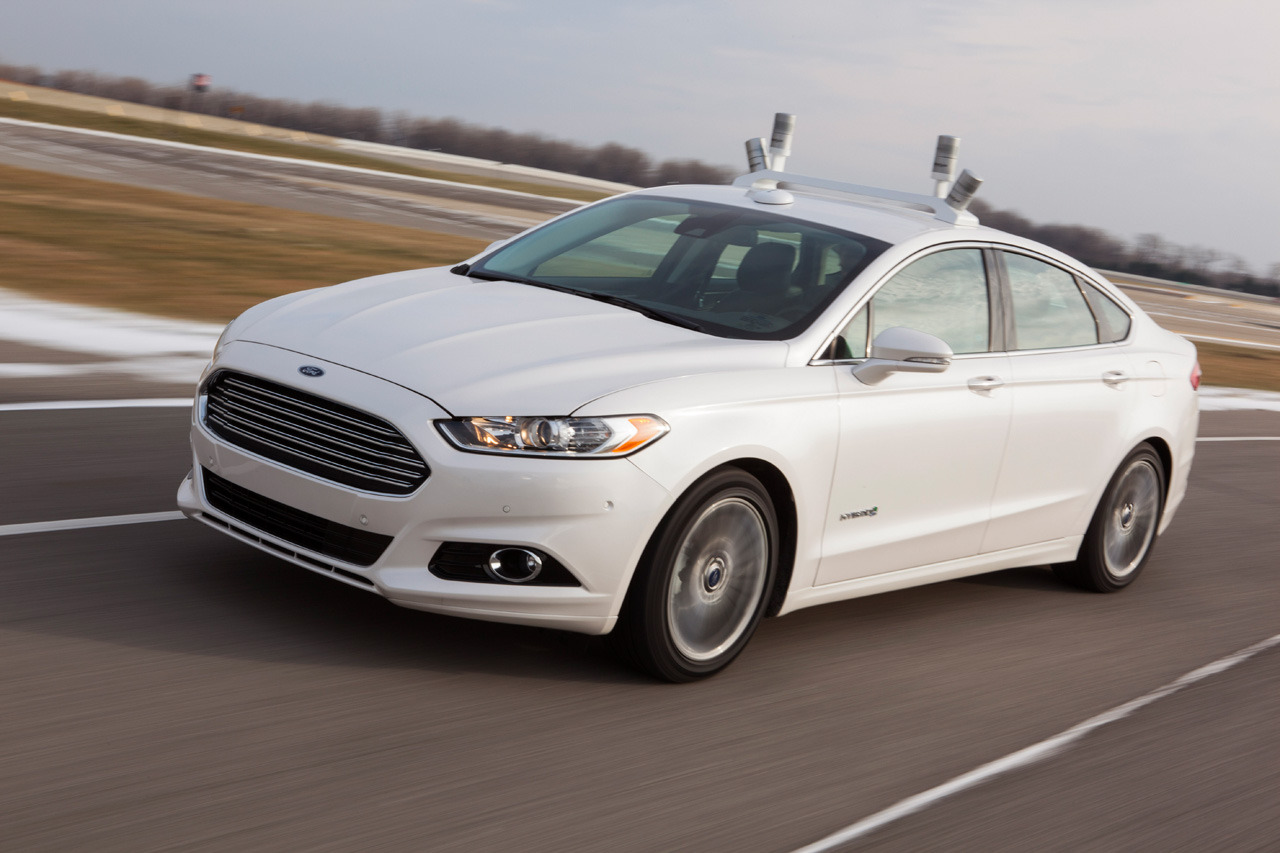 Ford Fusion
While Ford was still talking about traffic-jam assistance and auto-parking in 2016, Tesla and BMW owners around the world were already putting their feet on the dashboard. So Ford got with the program. To be fair by that time 10 converted Ford Fusion's (later renamed Mondeo) were already circling the streets of Dearborn, near Detroit (not counting the ones Uber uses as testing models). But Ford decided to boost that number up to 30 and to expand its test sites to include Michigan, California, and Arizona.
Ford uses Lidar as its main vision provider, which it buys from Velodyne. Lidar is a specific form of radar technology which measures distance by illuminating a target with a laser light. Not all big car manufacturers believe that the use Lidar is required, but because of it Ford got a lot of publicity doing autonomous testing in complete darkness. Ford is also been known to use Nvidia's Drive PX to bring together the car's other sensors.
While most of the other big car manufacturers are focusing on step by step improving advanced cruise control, Ford's next goal is to manage whole journeys without human intervention aka fully autonomous. Ken Washington, Ford's head of research and advanced engineering, says there is no alternative to this approach. "There is no reliable model for handing control back to drivers in semi-autonomous vehicles at short notice". Ford plans on releasing a first driverless vehicle in 2021.
Mcity, Pivotal Software and car entertainment
Except for building a fleet of Fusions, Ford's engagement has gone further. One of the other accomplishments was building Mcity. This 32-acre testing grounds in Michigan includes ramps, roundabouts, tunnels, crosswalks, streetlights and all of the other stuff you would see on your average drive. Except for people. Ford built 'Fakecity' to mimic actual driving scenarios without law restrictions or the danger of hurting citizens. This gives Ford the advantage of being able to test situations like running a red light or excessive speed stops.
Other honorable mentions go to Ford investing $182.2 million in smart mobility and cloud-based software company Pivotal, the release of FordPass, a mobile app  for finding and reserving parking or lock/unlocking and scheduling your vehicle to start from a distance and lastly, Ford patenting the Autonomous Vehicle Entertainment System. Following Volvo's Concept 26 or the Mercedes F105, Ford believes that completely autonomous driving comes with drivers who no longer need to focus on the road. For them Ford self-driving car models will display a projection screen in the front of the car, covering the windshield, to watch movies or business presentations.
Coalition for Safer Streets
An often heard quote within the industry is that not the technological aspect, but the lack of laws will hold back the self-driving future. Lawmakers are not keeping up with the technical advancements and therefor heads of industry are collaborating as pressure groups. In April 2016 one of these saw the light as the 'Self-Driving Coalition for Safer Streets'. The coalition includes Ford, Google, Volvo, Uber and Lyft and works with U.S. policymakers to identify future problems and suggest solutions that support the deployment of self-driving vehicles.
Example of an issue is that automated vehicles without steering wheels, pedals or other ways for a person to take control of a car are illegal in some US states. This to the frustration of the above mentioned, who are insisting on national regulations. Allowing fully autonomous cars in all states would be a major breakthrough for the industry and a serious blow to companies focusing mainly on a driver-assisted future.
Last updated: 19/07/2016
Sources: CBR, Ford.com, TechInsider, Business Matters, Financial Times, Jalopnik, Recode, TechInsider, Apple, ZDNet, Forbes