Google's contribution to the self-driving-future:
Google leads the pack in the race to the first autonomous car. The company started building its first driverless car in 2009. They altered a Toyota Prius with Google's self-driving software and tested it on freeways in California. Later followed other well-known models like the Audi TT and most famously the Lexus RX450h. At that point Google had completed over 300.000 miles accident-free in freeway tests and it was time to take the next step.
Google self-driving car project is a part of Google X. Google X is the semi-secret research and development segment that gave birth to the Google Glasses or Project Loon. This facility also introduced Google's in-house built driverless car prototype in 2014. The vehicle is assembled by Roush Enterprises and uses equipment from Bosch, ZF Lenksysteme, LG, and Continental. Under project leader Sebastian Thrun (know for his already famous speach on TED.com) the new automobile continued testing, just like the Lexus RX450h had been doing, not only on the motorway but in the city streets. A much more complicated task.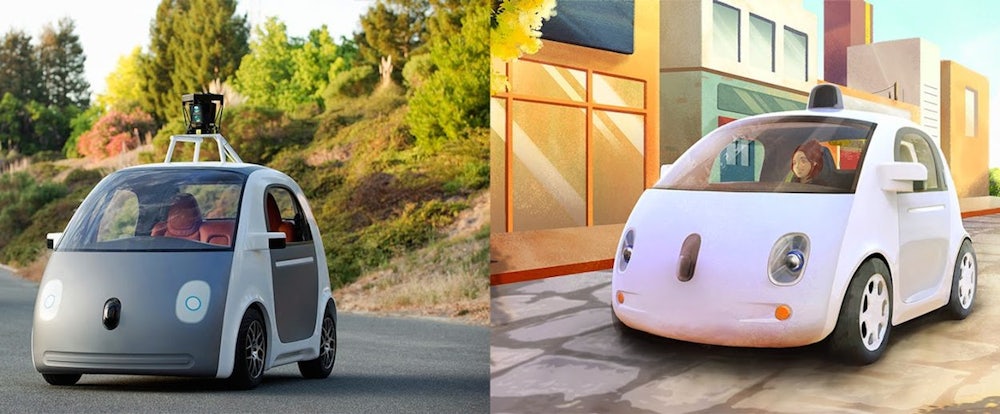 Almost 1.5 million miles later the Google self-driving car is still investigating and testing in the streets of California, Texas and Washington. Other countries overseas are getting involved in Google's testing too. Until February 2016 the Google self-driving car had been involved in 14 minor collisions on public roads, but Google in all cases the vehicle itself was not at fault because the cars were either manually driven or the driver of another vehicle was at fault.
After February 2016 Google autonomous car is no longer blame-free as the Lexus SUV's hit a bus at 2MPh and was partially to blame. After a minor setback the Google car still keeps its head high and Google still plans on bringing the first commercial models on the market in 2020.


How Google's self driving car work?
Google's driverless car equips eight different types of sensor. The most noticeable is the rotating roof-top Lidar –camera that uses up until 64 lasers to measure the distance to objects.  The radar builds up a 3D map at a range of 200m, letting the car "see" its hazards. This Lidar 'mapping' is the biggest difference between Google and the other big main players (for example Tesla), who believe Lidar is too expensive and superfluous (Lidar is still expensive—about $50,000 for one Google car—though Velodyne, a major Lidar supplier, has said it is taking that price down to $8,000). Google's competitors follow the active camera approach from big competitor Mobileye.
Except for Lidar, other navigation and safety technology is put in place. The car also sports for example another set of "eyes", that points through the windscreen. These sensors communicate possible (pedestrian) collisions, do the headway monitoring (car distance, reading road signs and detecting traffic lights), lane switching and much more.
No single sensor is responsible for making the Google self-driving car work. Only GPS data (Google bought Waze in 2013) is not nearly accurate enough to keep the car on the road. Instead, the driverless cars use data from all these eight sensors, interpreted by Google's software. The data that Google's software receives is used to accurately identify all road users, their behaviour patterns, and what commonly used highway signals mean. For example, the self-driving Google car can successfully identify a bike and understand that if the cyclist extends an arm, the person intends to make a manoeuvre. The driverless car then knows to slow down and give the bike enough space to operate safely.
Is the Google car safe?
Over the years the Google self-driving car has been involved into a big handful of minor accidents. On top of that Google revealed in the beginning of 2016 that humans have had to take the wheel of its autonomous cars 341 times over 14 months to avoid minor accidents due to lack of programming or software failures. Chris Urmson, head of the Google self-driving car project, reacted: "But the figures are going down steeply and we expect the rate of these incidents to further keep declining."
Now, according to Google, the real danger is having auto safety features that could tempt humans to try to take control, something Tesla is doing for example. That is why the U.S. vehicle safety regulators decided a couple of months later that the artificial intelligence system piloting in Google's self-driving car could be considered as a driver under federal law. This mean that Google's prototype is not longer in need of a steering wheel, brakes or.. a human.
As a result of the US ruling in Feb 2016, Google decided to take their human-free model across the globe. And the idea got picked up. Test cars without human supervision have started in the UK as well. Google believes driverless can be safer than driven, that they cannot deny.
What does the future hold?
In Google's world, people will not just quit driving cars, they will also quit owning them. No more investing in an expensive and depreciating asset that sits idle 97 percent of the day. Fleets of autonomous vehicles will circulate through your town, pick you up when you summon one via your smartphone or smartwatch and move on to the next fare. In other words, Google does not want to sell a consumer product, but a mobility service. This idea is followed by Toyota, who therefor teamed up with car sharing company Uber (or General Motors and Lyft).
In april 2016 Google themselves teamed up with Ford, to advocate driverless lawmaking in the U.S. Big chance they will soon cooperate in the manufacturing process too. In may 2016 Google announced a partnership with Fiat to put self-driving technology into the 2017 Pacifica minivan.
Last updated: 07/09/16
Sources: Google.com, Reuters, TED, The Washington Post, The Telegraph, Seekingalpha, Business Insider, Financial Times